"For my dog Marty, this information
made the difference between
a horribly short 3-month life
expectancy and an additional
17 months of life"
Learn What We Did to Help Marty Live 300% Longer
Than His Vets Thought Possible…
Dear friend,
If your dog has been diagnosed with cancer, you're no doubt wondering what you can do to help him live the longest and healthiest life possible before it's time to say goodbye. I know that's what I wanted when my dog Marty was first diagnosed with canine cancer back in 2006.
That's why I've created an exhaustive resource of dog cancer care tips and tricks – to share with you the information I learned to keep your dog in fighting shape for as long as possible. These tips come from my own research, consultations with Vets, and personal experience. It's not rocket science, but for my dog Marty it was the difference between a horribly short 3 month life expectancy and a whopping 17 additional months of life.
Literally thousands of people have read my book and thousands more have spoken to me personally since 2007 and those numbers grow each day. I've done everything in my power to help other dog owners like you have the time to say "Goodbye" to their beloved dog – their family member – whose life has been unexpectedly cut short.
You've found a fantastic resource.
Your dog will thank you for signing up to receive my e-mails today, because you'll be secure securing 7 installments of my Dog Cancer Care Tips covering…
What You Need To Do Right Now
Creating The Proper Environment
Dog Cancer Nutrition
Natural Alternatives
Recommended Supplements
Your Mindset
Where To Get More Info
… And of course, I'll send you any updates as well.
Many dog owners just like you have reported an increase in life span beyond the Vet's estimation by using my tips. Here's what some of them had to say…
"I was able to help Chelsea extend her life beyond the Vet's expectations. She was in no pain and continued to leap around, playing with the other dogs and enjoying walks. She lived a further 9 months"
-Elinor

"Ted, Thank you for sharing your special report and book preview with me and Zeus. Your emotional support and knowledge gained from being faced with the same news about Marty has been very helpful."
-Jill

"Even at the end the doctors told me she beat all odds. Like I always said about my Dixie she was one in a million… Thank you for all the time you have put into this on behalf of Marty…"
-Kim

"Your material was essential in helping my dog on the right path. I would highly recommend your material to anyone who has a dog with cancer"
-Robin and Lilly

"[Your material] provides a great deal of valuable information. I had found bits and pieces already online, but it's great to have it all in one resource."
-Adi

"I know that when I am old and gray I will still look at her picture and a tear will come to my eye. I'll also never forget how much you helped me to help KeKe. I would have done anything to save her"
-Lauren and Coco
Remember: You and your dog don't have forever.
The sad reality is that for every moment we delay the cancer progresses just a little bit further…
I want to help, but I can only do so with your permission.
Please let me guide you in taking the steps that can help you and your dog enjoy more precious time together.
Please Note: This Dog Cancer Support Group website
is being upgraded and replaced by a new, 100%
charity supported, website called
"The Dog Cancer Tribe"
For access to our library of dog cancer information and
support -- and to download my complete Fighting Canine Cancer
Book and Bonus Package for free -- please continue to the
Dog Cancer Tribe website and sign up for your
free username and password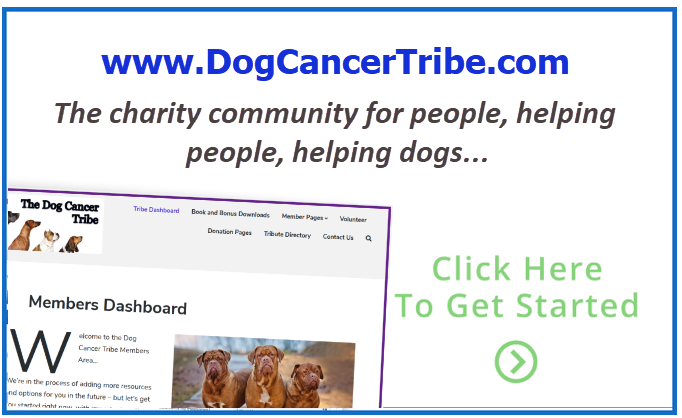 ------------------------
Download this Free Dog Cancer Information now…
6 Things You Can Do

Right Now
to Help Your Dog Fight Dog Cancer – A Formula For Success" (it's free)
We'll send this information to the address you enter below

And if you ever have any questions or concerns,
please click here to visit our contact page
and we'll do our best to help.